Directions to Bob and Martha's house in Creve Coeur - 433 Marford Drive
Click on the map to go to Google Maps. You can then drag the map around to see where you are, or zoom in and out for the bigger or smaller picture.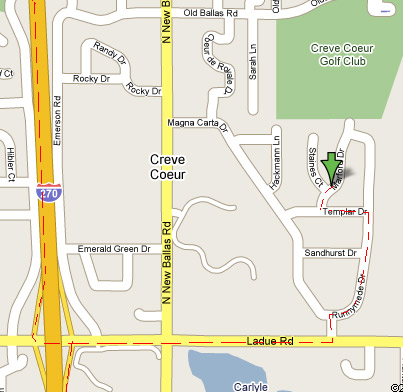 P.S. You may want to take Ladue Road. We're off Ladue,
about 2 miles west of Lindbergh or about 5 miles west of 171.
Take Interstate 270 to Ladue Road, one exit north of 40/64 or one exit south of Olive Blvd.
At the end of the off-ramp, turn East towards St. Louis (right if you're headed north, left if you're headed south).
Go through the lights at New Ballas Road and continue on Ladue Road.
At the bottom of the hill, turn left onto Runnymede Drive.
After a short block, Runnymede comes to a "T". Turn right onto...Runnymede.
Go two blocks to the stop sign at Templar.
Turn left on Templar. Go one block.

Turn right onto Marford Drive and go a short block to Staines Ct.
The house is on the corner of Marford and Staines, #433 Marford Drive.
Look for the number 433 on the mailbox in front of the house (on Marford).
If you get lost, call us at 314-872-3239 and we'll talk you in.